The Deja Family Foundation
The Deja Family Foundation was established to provide community assistance and scholarships, in memory of the Deja Family and their multiple generations dedicated to changing lives in our community.
Robert F. Deja – Bob was born on January 4, 1933, in Chicago, and passed away June 28, 2022. Always a cowboy, Bob loved singing and was seldom without his guitar. He and his horse, Copper, won the State of Illinois Western Horsemanship Finals in 1955 and, later in the 1990's he was the winner of a quick draw competition. He loved his career as an auto repair mechanic and owned three service stations prior to his retirement in 1985. No adventure was too big or too small. He enjoyed motorcycling, snowmobiling, boating and motorhome escapades, always with family and often with friends in tow. Without fail, Bob had a smile on his face along with a kind word and always a joke to share. He was active in his community in Illinois and Florida, serving as Commodore of the High Tide Yacht Club and President of the Men's Club at Nettles Island. He was a member of the Men's Chorus and a treasured volunteer at the Hibiscus Children's Center in Florida.
Bob and Barb were united in marriage on December 17th, 1955, for sixty-two years of love and adventures until her passing in 2018.
Barbara L. Deja – Barb was born on Christmas Day, December 25th, 1934, in Chicago and passed away August 17, 2018. She grew up on Pratt Avenue, right on Lake Michigan. She often spoke about how much she loved to spend her time at the beach and swimming in the lake. She adored horses and spent a lot of time at the stables where she boarded her horse. There she made several lifelong friends and is where she met Bob. Barb loved to entertain and spend time with friends. Because of her, the party always seemed to be at the Deja house. Camping, snowmobiling and boating were among several activities she enjoyed. You could often find her picking up seashells or fishing from her pier. Barb made every holiday and birthday a big deal and was a huge advocate for family dinners. She was our family's biggest cheerleader from the school play to the tournament basketball game. Barb was also so dignified and well put together. She came from the generation of ladies that only wore dresses and high-heeled shoes downtown, everything was an event - even flying on an airplane. She lived that way in everything she did.
Bob and Barbara have 3 daughters, 9 grandchildren (who are active volunteers and philanthropists) and as of 2023, 4 great grandchildren.
Meta E. Deja – May was born December 13, 1912, and passed away November 1, 1993. She is the matriarch of the Deja Family. May lost 2 children when they were very young, one to "crib death" (SIDS) and another to Leukemia when he was only 2 years old. After their deaths, she became a single mother and went on to raise her two other boys who were the light of her life. Employed by Zenith on their assembly line, she worked her way to becoming the Union Steward in a time when achieving that position was unheard of for a woman. She retired from Zenith with gratitude after over 40 years of service. May additionally worked in the evenings at the local German bakery and weekends performing traditional German dance to provide for her sons and to maintain the family home in Chicago, from which she took much pride. Later in life she met and spent more than 50 years with her lifelong soul mate Walter "Slim" Nelson. Slim affectionally referred to her as "toots". The couple always provided assistance to those in need, even when they may have been in need themselves. May was a devout Lutheran and was always committed to the work and philanthropy of her local church. At her funeral, the pastor recalled a letter that he received from Meta, "Dear pastor, On my way to the service last Sunday I was robbed and lost my purse, which included my church donation. Enclosed find my weekly donation and please pray for the man who robbed me, as he must be in greater need than myself."

Meta has 2 sons (and 2 sons preceding her in death), 5 granchildren, 12 great grandchildren and as of 2023, 4 great-great grandchildren.
APPLY FOR COMMUNITY ASSITANCE HERE
In 2023 the Deja Family Foundation has been proud to support the following organizations:
Immanual Luthern - Community Assistance Fund
Southern Illinois University Foundation
Religious Coalition for Reproductive Choice
Hawai'i Community Foundation - Maui Strong Fund
Southern Illinois University Aviation - Women in Aviation
ABBEY MONDI ANNOUNCED AS THE 2023 RECIPIENT OF THE DEJA FAMILY MEMORIAL SCHOLARSHIP
The Deja Family Foundation is thrilled to announce that Kaneland High School Senior Abbey Mondi is the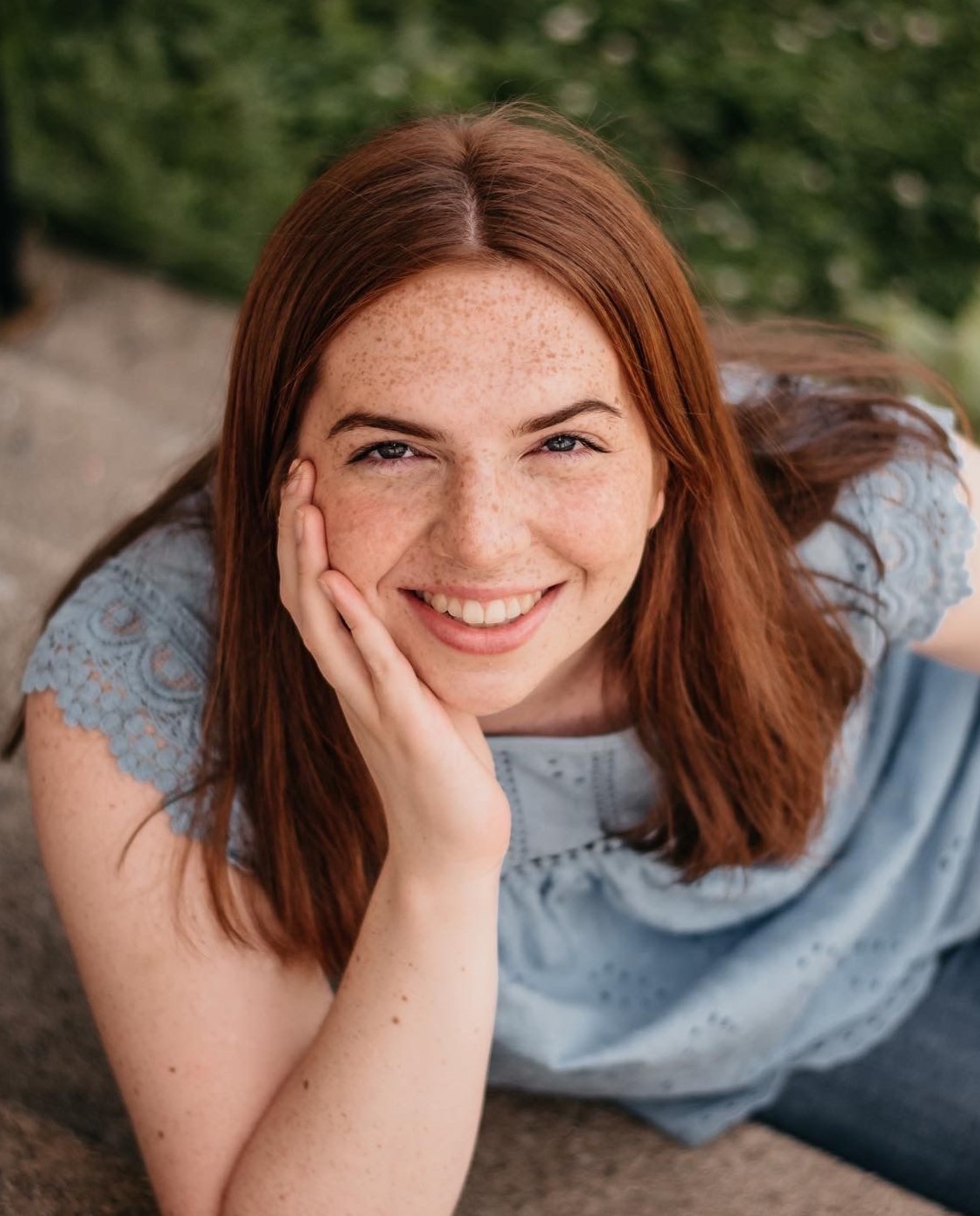 recipient of the first Deja Family Memorial Scholarship. This $1,000 scholarship honors the memory of the Deja Family and is awarded to a High School senior who exhibits leadership, service, kindness, and serves as an example to those in the community.
The Foundation President, Gayle Deja-Schultz presented the scholarship award and recognized Abbey for her accomplishments at the Kaneland High School Senior Awards Night on May 18.
At Kaneland High School, Mondi is a National Honor Society member and the 2023 Class President. She has been active in student council, cheerleading, choir, world languages, Kaneland Krier, and Key Club. In the community, Abbey volunteers at Beautiful U Ministries / Resale Shop and devotes time to other local charities and community service.
Mondi will be attending Augustana College in the fall, majoring in Business Administration with a focus in marketing and minoring in Spanish. She stated, "This scholarship will help me tremendously when funding my college education and I am thankful to the Deja Family Foundation for their generosity!"
Deja-Schultz remarked, "We hope to continue changing lives in our community and this scholarship aids a student who embodies the Deja Family's example in life: Family centered, community driven and aspiring to have a positive impact on the lives of others."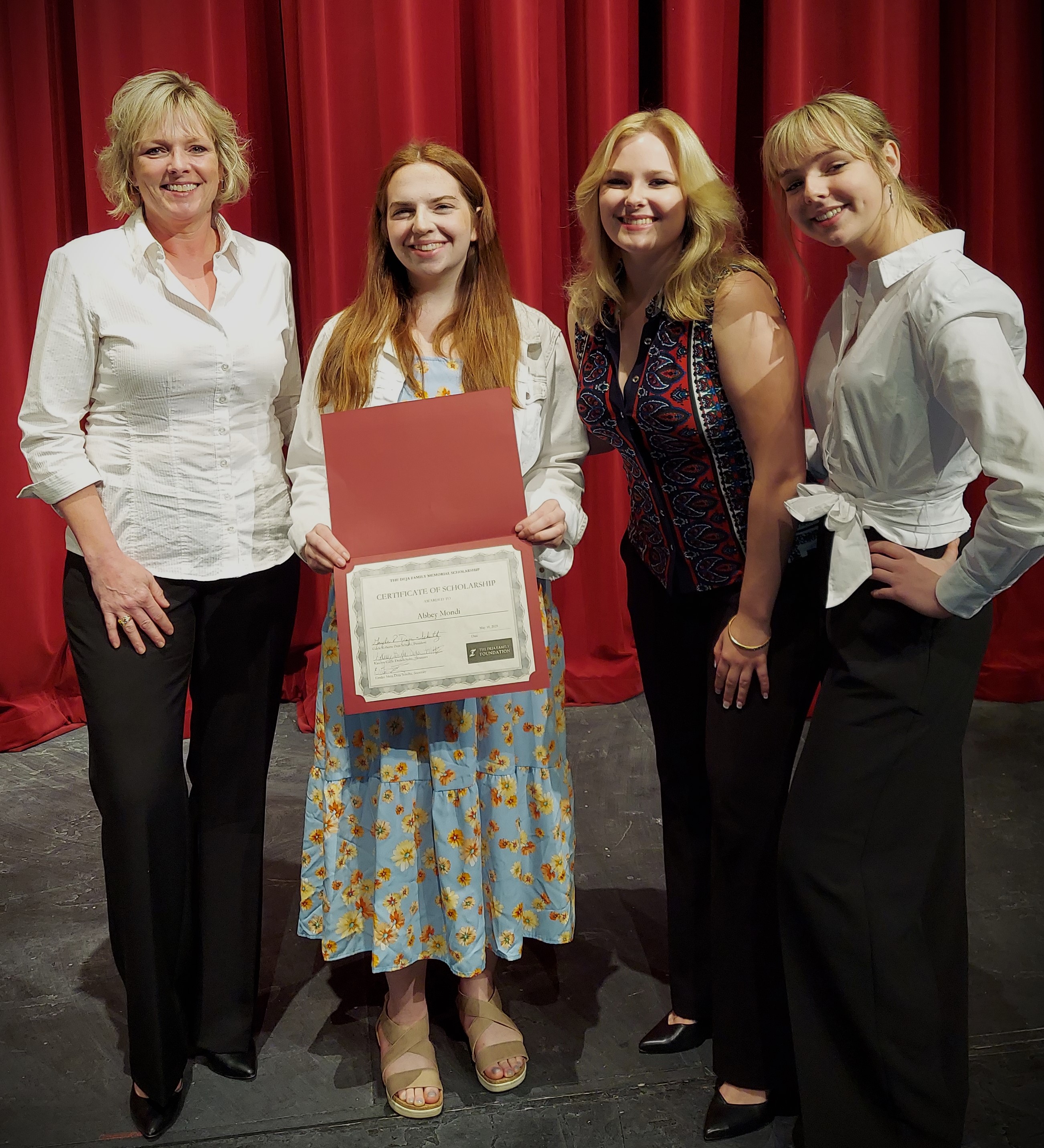 Gayle Deja-Schultz, Abbey Mondi, Katelyn Schultz, Emilee Schultz
Board Members of the Deja Family Foundation present Abbey Mondi with the 2023 Deja Family Memorial Scholarship.

The Deja Family Foundation is proud to award one or two scholarships annually, with a $750 minimum each. These scholarships will be awarded to High School seniors who exhibits leadership, service, kindness, and serves as an example to those in the community. The student(s) who is awarded the scholarship must be enrolled in a university, community college, or trade/technical school for the next school year.
Special preference will be given to students enrolled at Waubonsee Community College or William Rainey Harper College, and with the major area of studies in Business, Hospitality, Substance Abuse Counseling, Auto Mechanics or women in STEM.
We hope to continue changing lives in our community and this scholarship will aid a student(s) who embodies the Deja Family's example in life: Family centered, community driven and aspiring to have a positive impact on the lives of others.
Applicants must submit the following:
• Completed General Application
• Copy of unofficial or official transcript
• 2 letters of recommendation:
- 1 school (current teacher or counselor) and 1 outside (Employer, Volunteer Manager, etc.).
• Typed Essay of 1,000 words to include the following:
- Why should you receive this scholarship?
- How will you make a difference in our world and continue our legacy?
- How have you made a difference in your community?

The completed scholarship application must be submitted by March 1st, 2023.
Late or incomplete applications will not be accepted.
Access the scholarship application:

THE 2023 DEJA FAMILY MEMORIAL SCHOLARSHIP APPLICATION CYCLE IS NOW CLOSED.
THE 2024 SCHOLARSHIP APPLICATIONS WILL OPEN JANUARY 2024.
For more information, a .pdf application, to donate or request for community assistance, please contact:
Gayle at Gayle@DejaSchultzHomes.com or (630) 708-2424.
Thank you to our donors:

The Deja Family Foundation To make a donation: "coming soon"
Deja-Schultz Homes The key to finding your happy place!
Friends of the Deja Family